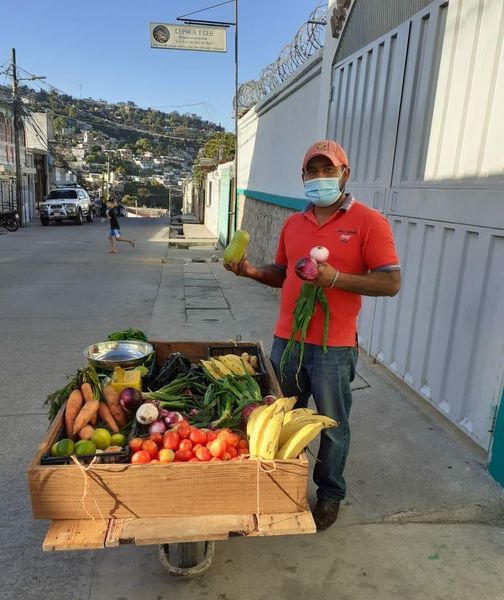 You're a parent of two children in Honduras, struggling to provide for your family in a violent and poverty-stricken neighborhood. The loving education your kids receive at the local Christian school is a rare blessing. The school charges a small tuition fee, but it is a manageable cost. Then you hear news of a deadly virus circulating the world. Before you know it, your community has shut down to prevent the spread of the virus. You've lost your job, and soon you aren't able to feed your kids, much less pay tuition.
Such is a scenario many families in Flor del Campo, Honduras experienced when the 2020 pandemic hit. SAMS missionaries Suzy McCall, Amanda Scott, and Stephen and Debra Buckner serve there at the LAMB Institute. LAMB is an extensive ministry with a children's home and church, a school, and other programs to help at-risk children and youth. Students depend on that community in a place plagued by danger and destitution. The ministry infuses hope into children through Christ-centered education and spiritual nourishment. The pandemic would have threatened kids' ability to participate. Yet LAMB, led by Suzy, knew they needed a way to keep kids in school while also empowering families to pay tuition with dignity. The solution they created gives parents a chance to work off the payments owed. That is not all – the plan also equips families with start-up small businesses and skills they can use after they have paid off tuition debt.
Suzy describes the project – "We have created jobs for family members of the students who owe money. First, we hired a coordinator for this project, which will initially run for three months. We have selected a young woman in our neighborhood who holds a university degree and is currently unemployed. Several small businesses have already started: a man is selling fresh fruits and vegetables from a cart which he pushes around the neighborhood; another family is selling paper products; another is selling plastic products. A carpenter in our youth outreach program offered to train a small group of people in woodworking, with the hope that they would eventually produce marketable goods, such as furniture. They have completed their first project: three bookcases. Our fund underwrites the start-up expenses, pays the carpenter, and provides stipends for the 'employees.' Again, we will underwrite the materials and pay the workers for the first three months, with the stipulation that part of their pay will be applied towards their school debt. If some of the businesses are successful in generating profit, we can turn them over to the operators, and they can continue without our help." Empowered by God's grace, this ministry puts legs on our Lord's calling to proclaim good news to the poor (Isaiah 61:1). Lift up these Honduran families in prayer as they engage in these small business opportunities and interact with the Christian community at LAMB.
In 2021, SAMS World Relief Fund (WRF) provided for a grant of $4,000 for LAMB's job creation project. SAMS WRF has helped other ministries in Honduras as well. Two severe hurricanes devastated other areas of Honduras in Fall 2020. Stay tuned to read how SAMS Missionaries are helping those communities get back on their feet.
Senders giving generously to SAMS World Relief Fund in 2020 and 2021 have enabled missionaries globally to help their communities in dire circumstances caused by the pandemic and natural disasters. In four rounds of grants, SAMS WRF has given to 18 missionary projects and five diocesan projects, totalling $80,700 since April 2020.