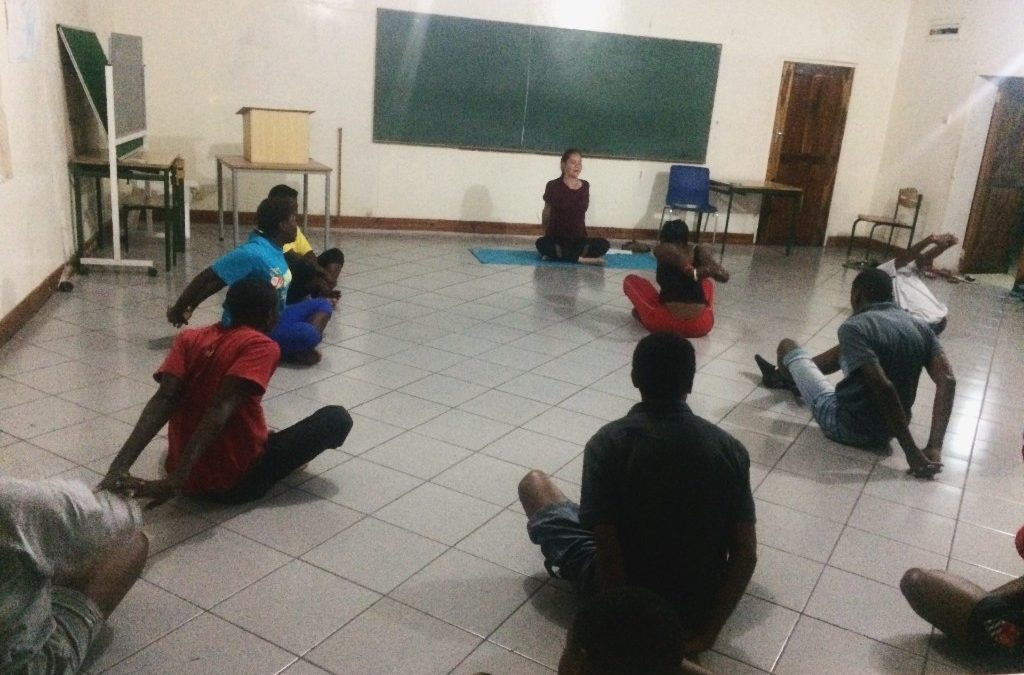 And love consists in this: not that we loved God, but that He loved us and sent His Son as an atoning sacrifice for our sins. 1 John 4:10
A high percentage of the population in Zambia is under the age of 35. SAMS Missionary, April Sylvester, feels called to come alongside young adults. At GLO Zambia, April serves the Lord by mentoring young adults. The students learn about relationships, stewardship, missionary vocation, and HIV prevention. Currently, April is also teaching yoga and swimming.
God has called April to love the students at GLO. She cares for these students because she knows God first loved.  In return, these students care for April, and they are inspired to go on to treat others how they have been treated. A few students shared how they have been impacted by April and the mentoring program:
Shari: April has been a very good mentor. I already knew how to swim, but April has helped me perfect my swimming. I also used to smoke and she has helped me with my addiction, and now I don't really want to smoke. She has been there for me when others have thought less of me. I thank her for that.
Peter: April has been my best swimming teacher. When was struggling spiritually, she was there for me. She prayed with me and continued to pray for me during my struggles.
Ana: We are GLO Students. April is our leader and she has inspired us and I have learned a lot about myself. I used to be afraid of water. Now April has taught me to be more confident and I am learning to swim. April is the kind of person has a gift of caring for others, and she really has invested in our lives.
Like April who mentors, we are called to love one another. What gift has God given you that you use to show love to others?
Names have been changed for the privacy of the students.
Would you prayerfully consider supporting April today? Pray, support, and give here.