One of the things Sora and I sought to do in Davao was to labor in such a way that what we did would not cease with our departure. Knowing that our term in the Philippines was likely to be limited to three years, we wanted to leverage our gifts so that they would be multiplied and continue to have effects for years after we left.
The power of missionary work is in the formation of relationships. And in the Internet age, these can continue to be effective.
One of my Greek students, Wayne Dimaano, is teaching a Greek class via his church's Bible institute. He keeps in touch by FB messenger with questions about grammar:

As you can see from the mention of Quizlet, we also share flashcards and other teaching materials.
Pastor Wayne forwarded this photo of the large number of students who showed up for his first Greek class: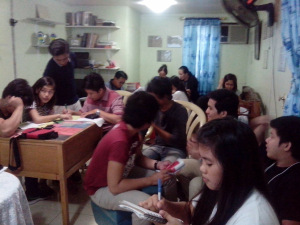 (I recall a similar huge turnout for my first Greek class. There will always be some attrition when it becomes clear that there is no royal road to the knowledge of Greek, but with that many students, Wayne will surely have a good number left.)
Wayne and I continue to share books and discuss exegetical questions and theology. Now that I'm in the same time zone (in Singapore and soon in Indonesia), I can respond quickly while we are both awake.