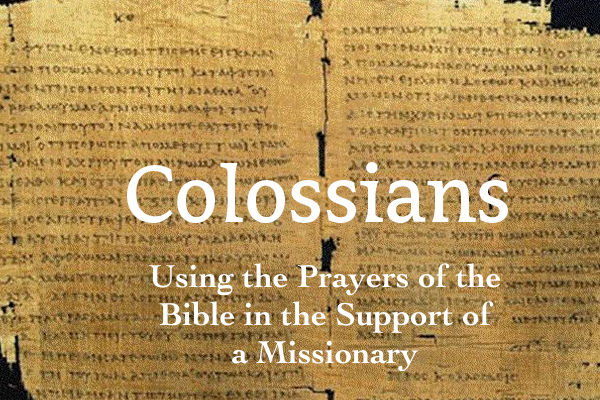 In this fourth part we continue with the premise from Part I, that much of the content of our prayers can wisely be modeled after the prayers we read in Scripture; and in this particular example, from Paul's prayers in Colossians Chapter 1. (For a bit more context please see the previous blog post of Part 1 of this series , Part 2 of the series and Part 3. Note: this excerpt is directed toward the Sender who is seeking guidance in the prayer support of a missionary.
"… and increase in the knowledge of God." (Colossians 1:10)
The personal devotional life of your worker is at stake here. On the field there are many factors that can lead to spiritual drought:
Your worker may become so busy "working for the Lord" that there is no time for personal intake. He does not take the time to be still and hear from the Lord. The missionary's head can still nod at the appropriate times; his public prayers can still sound holy; his teaching can still be most proper! Unfortunately, though, he knows the life of the Spirit is gone.
Loneliness haunts many cross-cultural workers. More susceptible, of course, are single adults. This can lead to seeking inappropriate relationships, which can lead to spiritual dryness. One single woman was continually being harassed by the married people about 'getting married.' Unfortunately she found relief from this pressure in a local bar! A kind married couple became her confidants.
Expectations of the people back home are not met. Some think, "We are paying the bill. We want to see some results." And generally these results are in the number of conversions. One friend wrote from a very difficult field. He knew that his major work would be "breaking up fallow ground" and he had communicated that to his support team members. But, after six months the people back home were wanting 'statistics!' He had none. He was discouraged.
Failure in task takes its toll on some. Discouragement debilitates. This downward spiral of morale is slippery. At the bottom of the slide are many spiritually depleted field workers. Often, these burned-out workers do not realize that they should go home. They become an embarrassment to the mission endeavor, a drain on the energies of others who are trying to help them and a dismal blot on the testimony of God's Church in the world.
Disillusionment can bring an awful frustration, which in turn may lead to spiritual drought. In the mission process there are many tasks that aren't so glamorous – cleaning the grease trap outside the kitchen door, keeping an inventory on parts, or being reviled by the drunken street-sleeper.
One may become discontented with other workers. Discontent is putting it mildly. 'Radical interpersonal relationship problems' might be more accurate. This is the number one cause of missionary failure. Why? Because Jesus said, "They [the ones your worker has gone out to seek and save] will know they are His disciples by our love for one another." (John 13:35) So here is a major area of attack by the enemy: If he can destroy our unity he can destroy our testimony!
Your prayers and the united intercession of the prayer support team for your cross-cultural worker will put a hedge of protection around him (Ezekiel 22:30), will ground his thoughts (Philippians 4:4-7) and will give him the wisdom of a peacemaker in those tough interpersonal situations (James 3:13-18).
Shared with permission from Emmaus Road Int'l, Neal Pirolo, Serving as Senders Today, 2023.