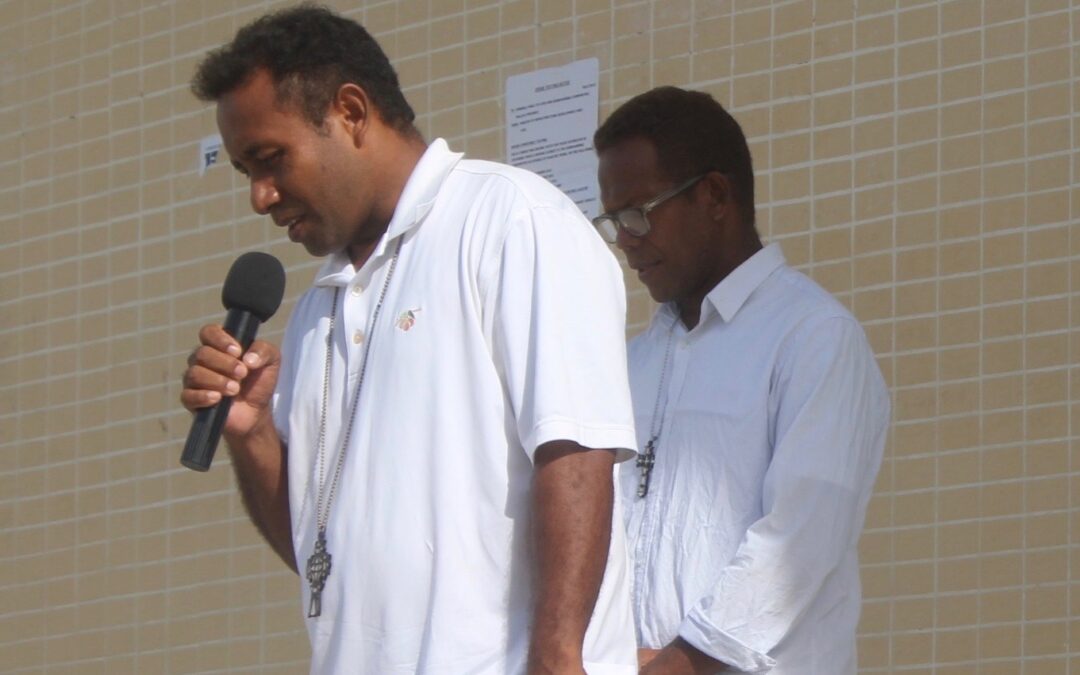 Above: Father Alister (front, with mic) and Father Jack (back) pray and preach at Auki market in the Solomon Islands. SAMS Missionaries Jon and Tess Hicks are raising money for these church leaders to receive further education at Nashotah House Theological Seminary in Wisconsin, USA, in order that they may train more clergy in the Solomon Islands.
Theological education, when it is done well, keeps the Church rooted in the Holy Trinity amid the perils of her pilgrimage in the world. The Solomon Islands, like so many nations, is in need of theological educators and priests who will help their people to go deeper in the Bible, grounded in the love of God and the love of his people.
Fr Alister and Fr Jack were students of mine (Jonathan) at Trinity School for Theology and Ministry on the island Malaita. They have been partners in Gospel mission since their graduation, and have caught the eye of their bishops, who would like for them to take up senior positions teaching theology at seminaries within the Anglican Church of Melanesia. Nashotah House has granted them both admission and full tuition scholarships into their MDiv program!
Alister and Jack are both married. Their wives, Phylisca and Selina, will be coming with them to the USA – their first time out of their home country. Phylisca and Selina are both very supportive of their husbands' ministries. They are looking forward to this opportunity for further enrichment in their own ministry roles as priests' wives among Melanesian women. Seminaries in the Solomon Islands depend a great deal on the work of the priest's wife. Phylisca and Selina will be able to model this role well to seminary student families in the Solomons.
These two families have already been an incredible blessing to many people in the Solomon Islands. With his love of music and his gift of preaching, Fr Jack has been leading the Diocese of Malaita's youth ministry for the past three years. Fr Alister is among the most "full of faith" men I have ever met. His attunement to the voice of his Lord has brought blessing to the two parishes where he has served. They all bring their warm Melanesian hospitality to (a physically cold) Wisconsin. Their presence at Nashotah House will doubtless enrich the community there.
In total, these two families will need $32,000 per year to support their food, housing, and travel in the USA. The total goal is $96,000 for three years at Nashotah House. Thank you for your support!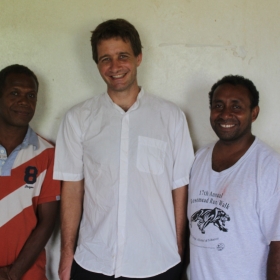 SAMS Missionary Jonathan Hicks with Jack and Alister.