In a letter to her Senders, Jessica Hughes reflects on the power of community and relationships, giving thanks to God for 10 years in Uganda and her recent graduation. – Kate Ulrich, Communications Coordinator
Hi friends,
There is much to celebrate this month. July is the month in which I returned to Uganda to serve as a lecturer, and it's also the month that I became a SAMS Missionary. That happened way back in 2012, which now feels like a lifetime ago. By God's grace, and your love, support, encouragement, and prayers, I have been serving at Uganda Christian University for 10 years. Thanks be to God! It has been an amazing decade, full of students, teaching, discipleship, growth, depending on the Lord, and being stretched in more ways than I can count. I am so grateful for how you have poured into me so I can pour into my students here. UCU trains students from all across East Africa, so we truly have a global reach. A friend commented that serving for ten years is having a generational impact, which I thought was an astute observation. That is also my prayer – that I would be able to impact my students, who will then in turn go and impact their congregations.
The second reason for celebration is that I actually graduated with my PhD from University of South Africa (UNISA) on July 1.  Back in March, it looked like UNISA was live-streaming the graduations, but not keeping the individual ceremonies on their YouTube page, and since I have multimedia experts on my eLearning team, I asked Mark to record my graduation for me.
So Mark dutifully recorded, and then sent the recording to me on WhatsApp. He also did the very Ugandan thing of putting it in a WhatsApp chat with members of the Academics team. At least one of them did the very Ugandan thing of putting it in all her WhatsApp groups. Next thing I know, students past and present are sending me the video along with their congratulations. The introvert in me is horrified, but the African in me is honored.
If you're interested in seeing it, my graduation is here, and I appear at the 55:00 mark. The MDiv 2 students at UCU had a cake for me after chapel when I returned, which was incredibly sweet. It is all the more precious to me since I've not taught this group of students. The video of cutting the cake and singing praises to God is below.
Living in Uganda for so long means that one meets different people, and I'm always surprised when they remember me. On the flight back from graduation, I was chatting with the woman behind me: she's Australian, and is on an epic holiday across several countries in Africa. She showed me her three-week itinerary, which sounded lovely. We ended up getting our luggage together and proceeding to the x-ray machine on the way out together. The officer saw her GoPro camera, and wanted to examine the suitcase. I stayed to help my new friend, and used my little Luganda to soften the exchange with the officer. To convince the officer that the GoPro wasn't a drone (which are illegal), I told her that my friend would be using it to record herself floating down the Nile. The officer laughed, and then peered at me and said, "it's as if I know you," so I reminded her that I had an epic load of vitamins in December. We laughed about that, remembering how I talked myself out of her inquisition, and I told her that I would do the same this December, and that when she saw me, she'd say, "mukwano gwange!" [my friend]. We had a good laugh about that, but I really hope she does remember me in December.
What all this has shown, and continually reminds me of, is the power of relationships and social capital. Everything moves by relationships here; I knew that my knowledge of the culture could help my Australian friend. The MDiv 2 students who came for pork and fellowship (see the picture below) told me that they had heard that I am a tough lecturer, which is true. But they've also heard that I'm fair, and that I'm the lecturer who is on the ground with them. That's given them the boldness to approach the muzungu (white) lecturer sooner than they normally would. I have been greeted by name and titles by complete strangers because they've seen me preach somewhere. But since they "knew" me, we weren't strangers. This familiarity has opened doors for ministry and relationships much more quickly than if they had to open traditionally, and for this I'm so grateful. My friend's comment about generational impact is really what I want to have, and that obviously happens through relationships. Relationships are what builds social capital, and social capital makes the world turn. I am grateful to have had the ability to meet and build relationships with so many. It is a privilege, and I do not take it for granted.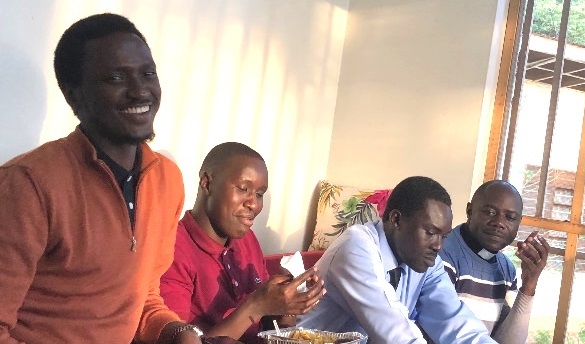 The MDiv 2 class asked to come and have dinner and fellowship; apparently they're doing this with all the lecturers on campus. We had a delicious pork dinner, and it was a wonderful time of sharing. A group that seeks out its leaders to learn from them and grow together is a group that gives me great hope for the church.