Above: The building of St. Andrew's Anglican Church in Belize, the community served by SAMS Missionaries Rev. David and Mary Beth Alenskis. Despite COVID-19, the church has a ministry of presence through prayer, social media, and delivering groceries to 40+ families this past week. 
WE ARE CALLED TO A MINISTRY OF PRESENCE, even as we are isolated by ourselves, separated from friends and church. We are called to a ministry of loving, engaged presence, even as we are irritable because we can't catch a break from family members who are under the same roof 24/7.
We can turn off the TV and call a friend instead to pray for them. Or we can turn away from the dirty dishes and give thoughtful attention to a preschooler who seems always to be needy. We can reach out to a friend whose anxiety and depression is deepening. We can pop a caring email to a healthcare worker serving on the front lines of suffering caused by COVID-19. We can help provide funds for missionaries to share groceries and God's presence with starving families.  We can tune in to the Holy Spirit through Scripture and the Daily Office. We can converse with a neighbor from the other side of the street, as we inwardly pray to be light in this time of darkness.
For God has said, over and over: I AM WITH YOU. His ministry of presence to us is one of the few rock-solid comforts we can always bank on. We are able to minister through presence because He has ministered to us first.
This is the truth that empowered SAMS founder Captain Allen Gardiner (1794-1851) to go repeatedly deep into the unreached regions of South America, risking everything for the sake of sharing the presence of Christ.  When Gardiner was in the Gran Chaco region waiting for the local chiefs' approval to start mission work, he reflected in prayer:
"Give me faith to take courage in the midst of apparent discouragements, to confide in Thy promises even when all things may seem to be against me….Thou has given this command to Thy servants – Go ye into all the world and preach the Gospel to every creature, and for our support and encouragement Thou hast added these gracious words, Lo, I am with you always, even unto the end of the world."
Gardiner had a cloud of witnesses, as we do, inspiring him to press on. As Joshua prepared to lead the Israelites, God encouraged him: "Have I not commanded you? Be strong and courageous. Do not be frightened, and do not be dismayed, for the Lord your God is with you wherever you go." (Joshua 1:9 ESV)
Through Isaiah God spoke to His people in exile: "Fear not, for I am with you; be not dismayed, for I am your God; I will strengthen you, I will help you, I will uphold you with my righteous right hand." (Isaiah 41:10 ESV)
The Psalmists gave testimony to the comfort of God's presence. Asaph found his purpose in the nearness of God when he realized the hopelessness of being far from God:
"…as for me, it is good to be near God.
I have made the Sovereign Lord my refuge;
 I will tell of all your deeds."
(Psalm 73:28 ESV)
Out of this foundation of presence, the Great Commission springs. I wonder if Jesus had Psalm 73 in mind when he gave the command to go and make disciples of all nations, followed up with the promise, "I am with you always" (see Matthew 28: 16-20). We share the Gospel because it is good news that God is with us through faith in the risen Jesus Christ. It is only because God is with us that we can have the strength to share that good news in the midst of life's heartache and suffering.
Allen Gardiner failed to establish a mission in the Gran Chaco region. Would he ever succeed in planting a Gospel-centered mission effort in South America? He did not know. Yet Gardiner knew the calling God had placed on him, and he knew he was not alone.
Don't miss the whole story. Read Part 1 of this series here and Part 3 here.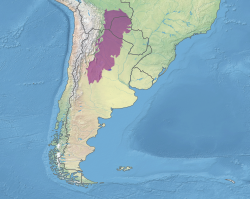 Above: The Gran Chaco region, in purple, includes parts of Bolivia, Paraguay, and Argentina. Allen Gardiner sought to establish a mission here, but had to move on, trusting God. (Image Source: WWF)