Belize: First Visit
Mission: Find a House
Meeting Friends, Home Searching, and Dreaming
– "What is your favorite part about Belize?"
– "We don't know. We've never been there."
– "You're moving there for a year and you've never been there?!"
– "Yep!"
We have had the above conversation more than once. More often than not, it would continue with comments about our bravery. I think bravery and faith look similar, but are overlapping ideas. Bravery chooses not to fear; faith chooses to trust. I'm not sure Missy and I are being brave. Rather, I think we are having faith, trusting that our Father has good things in store for our family in Belize. We belive he has good work for us to put our hands to, and rather than experiencing fear, we are full of anticipation.
Fortunately, at least now I have seen Belize! I spent all last week there. The mission on this trip was to find a home in San Ignacio and to get to know the missionaries we will be assisting, David and Mary Beth Alenskis.
San Ignacio, Belize
San Ignacio is around 2 hours west of Belize City. David graciosuly agreed to pick me up from the airport and let me stay at their home all week. It was an adventure from the start with delayed flights, packed customs qeues, and overheating trucks. But though it was dark by the time we arrived home, we made it safe and sound. The first night 's meal consisted of Salbute's from Lupe's. We'll talk food on another post, but let me say I will be eating a lot of these.
David and Mary Beth were wonderful hosts. We had many fantastic conversations over shared meals. I am genuinely excited for them to meet Missy and I believe the four of us can be great friends.
They both tapped into their network of friends to try and find us a place to live. We looked at so many places, but by the end of the week, we had a winner!
"Friendship has always belonged to the core of my spiritual journey." – Henri Nouwen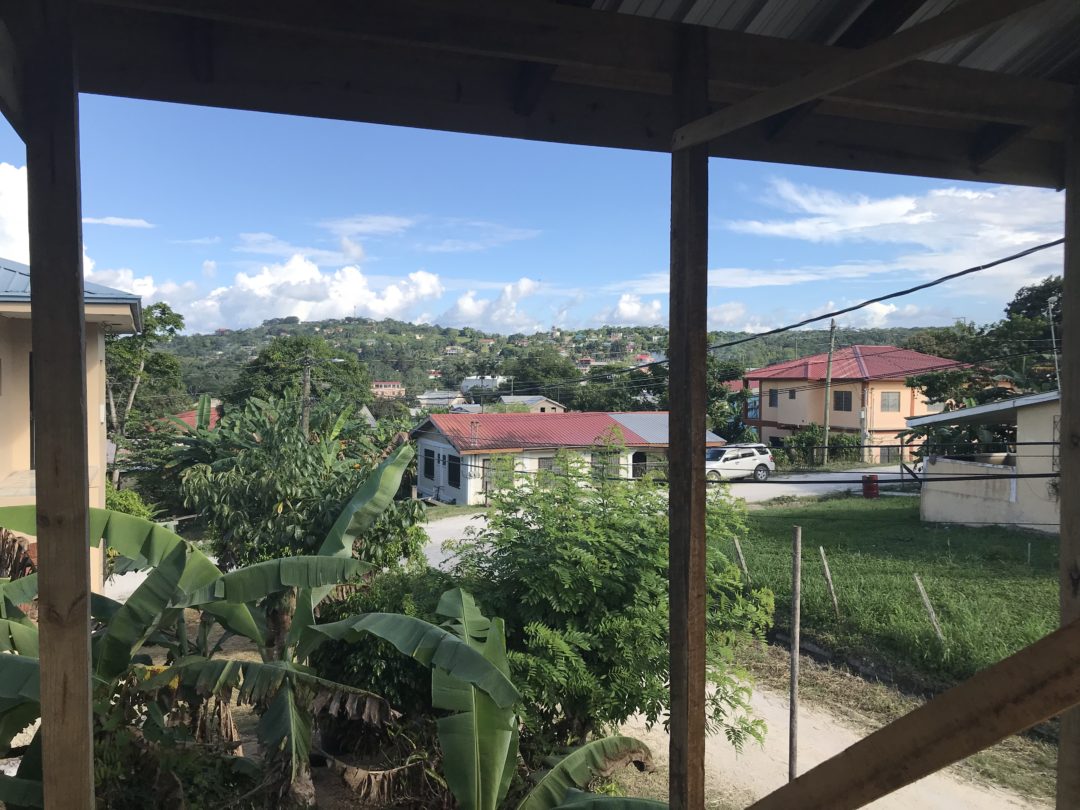 This little beauty is a 325sf tiny home built with a shipping container as it's foundation. It has one bedroom, a kitchen and a bath. Missy, Annabelle, and I will live here, sharing the bedroom. The open portion you see is a deck with a fantastic view of the city.  We are so grateful to have found it! It is only a 5 minute walk for Annabelle to get to school. We found much larger (and in some ways nicer) homes outside of town, but our hope is that this is a simple time for us. Missy doesn't want to drive and we don't want to have to take a bus to get everywhere.
The owners are going out of their way to be accomodating. I've already been receiving updates with photos. They're even letting Missy and I choose paint colors for the interior and exterior. We feel so blessed to have found this tiny little place. If you know us, you know it is perfect.
I was also able to visit Annabelle's school. I think she is going to love it!
I'll leave you with two photos. One of the school and the other a photo I took inside of St. Andrews Anglican Church. We hope to bring ourselves fully to this community, serving, learning and experiencing God in new ways and with new eyes.