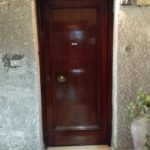 When the doorbell rings at our flat across from the Cathedral, we've usually no idea who will be standing there. 
A delivery? (Almost everything can be delivered here in Egypt – it's wonderful!)
Someone needing directions, prayer, a chat, a cup of tea?
Yesterday I opened the door to see a dear brother, broken and literally battered.  My heart was heavy as I listened to his latest grief of which he has many.  He is loathe to bother us but is desperate for prayer.  He and his family escaped a war zone and, as refugees, work hard to survive.  One of his sons has become a part of a gang and in a drug-induced rampage, beat up his father and elder brother.  If the father sends him back to their country, it would mean death.  If he turns him into the police…what a choice…  All he wanted was prayer.  "Since Father Kerry prayed for me, I have not been attacked by the gangs." 
Father God has given us a wide door for effective ministry.  (I Cor. 16:9)  Please pray that each time we open our door we would have the wisdom, selflessness and courage to meet our guests with hope and faith.