I can't believe I have already been in Belize for two weeks. I have loved living here! My first two weeks have been very busy. The first few days here consisted of David and Mary Beth showing me around San Ignacio. We also did chapel services for the three different schools that David is chaplain for. I loved seeing the young children at St. Hilda's so involved in the worship music. On Thursday of my first week here I began to join David and Mary Beth for home visits. We typically go to visit members of the two churches around two or three times a week. We have visited about 15 homes total since I have been here. On Saturday night St. Andrews held a choral festival service where Mary Beth's youth choir performed, the congregation listened to readings from the Bible, and sang songs to prepare for Pentecost. On Pentecost Sunday, I joined David and Mary Beth for the two church services they put on. The first service was at St. Andrews Anglican Church, here in San Ignacio, and the second one at St. Hilda's in Georgeville.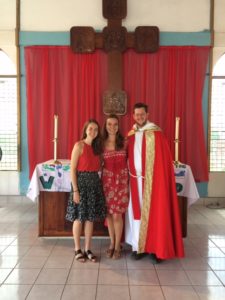 I was able to start working at St. Hilda's Anglican School during my second week. I spent my first morning helping teach a young girl with special needs. The other day I was there I was able to observe and read stories the children in a Standard 1 classroom, which is equivalent to second grade in the U.S. One of my favorite parts of my second week was attending the youth choir party. Mary Beth's youth choir that she leads at St. Andrew's had a party for their last rehearsal before their summer break. We played youth group games and ate snacks. It was so much fun to see how competitive some of the girls were during the games we played. I had my first meeting with the lady I am working on Vacation Bible School with. We are currently working on creating the curriculum for the VBS at St. Andrews in July. I plan on using this curriculum to have VBS at St. Hilda's the week after the VBS at St. Andrews. We went on more home visits and have started taking a couple of other members of the church with us each time. One of my favorite home visits was to a family in Georgeville. Their children go to St. Hilda's school and church. The daughters were so cute and one of them picked up Mary Beth's phone and tried to take a selfie with me. It was so adorable!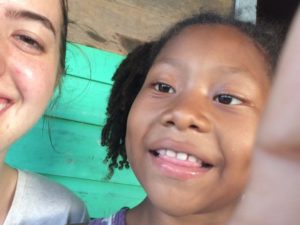 Since I have arrived in Belize I have tried many new types of food. The local fruit here is so amazing! It is currently mango season and there are mangos everywhere. I have discovered that Belizean's are in love with mangos. When I arrived in Belize I was very surprised to see that their oranges here are green on the outside. One the the most interesting fruits I have tried here is mamey. It was good but very strange. It had an avocado like texture but was a bright reddish-orange color and tasted like a cooked sweet potato. One of my favorite things I have tried has been soursop juice. I get it at every restaurant that has it available. Another one of my favorite new things is fresh coconut water. I have tried coconut water in the States and I was not a fan but my host family insisted I try it here. I am so glad I did. It is so so delicious!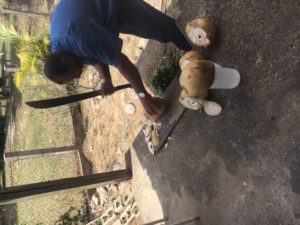 This week a mission team is coming from Florida to hold a free medical clinic in Georgeville and I will be helping them with their VBS they are holding in the mornings at St. Hilda's school. I am excited to continue helping out at St. Hilda's and building relationships with the children and families in the area and hopefully this will help encourage more involvement in the church. Belize is a beautiful country and I am looking forward to see how God will use me during the rest of my time here.