We've been in Bandung since July 29th now, and we have our plates full with language learning. That's our main task this year: get the language down well so that we can do the things God has prepared for us to do, both those we already have planned – teaching pastors Greek and Hebrew, pastoring a church – and those we can't know yet, but which are all already known to God.
Here is a sort of medley of photos from the first two months, with captions. They'll give you a flavor for what our life is like here.
Here's a panorama shot of the IMLAC (Indonesian Multi-Language Acquisition Course) campus where we spend four hours every day working on Bahasa Indonesia with several different tutors.

This shot is taken from the perspective of the ping pong table that Matt uses during our 20 minute break. As you can see, it's a really lovely environment in which to study.
IMLAC has a sense of humor. Its classrooms are named after islands of Indonesia, and there is one called "Kalimantan" (Borneo). "Kali" also means "multiplied by" or "times" in arithmetic. So we get this label on the room: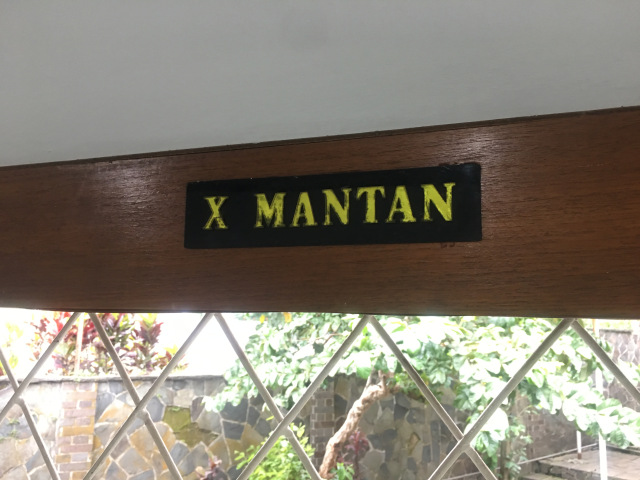 While driving in late August, we passed any number of roadside stands selling goats for the Idul Adha sacrifice (commemorating Ibrahim's narrowly-averted sacrifice of Ismail):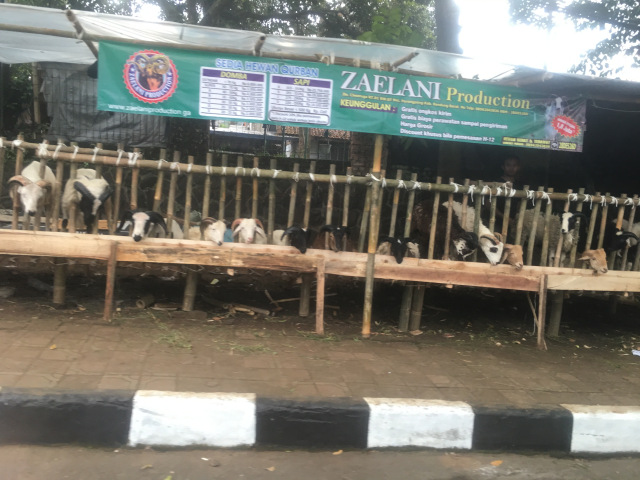 Here's a typical view out our car's windshield on the way to school. Our street is narrow, about 1.5 car widths across, so we have to "take turns" with other cars. But most traffic is not cars at all: motorcycles are ubiquitous in Bandung.
The number on the dashboard is our carpool pick-up number for Cahaya Bangsa Classical school, where Ezekiel is enrolled in 9th grade. He has probably made the best adjustment of any of our kids, which is a welcome surprise given how hard a time he had when we moved to the Philippines almost 4 years ago. He's doing great in his classes and enjoying playing on the basketball team, where his height serves him well.
Speaking of height, here I am with Pastor Henry S., assistant pastor at St. Paul's. This photo was taken at the reception for the wedding of another pastor in the GAI, Raphael B. Being 6'3″ is not an advantage off the basketball court: I have hit my head on low lintels and doorframes many times over the past two months.
Here's a wider view of the huge reception room at the Grand Pasundan hotel (Sora and fellow pastor's wife Deborah G. are at the far right):

This batik clergy shirt of mine has done duty for over a year now. I want to get some more made here, and we know a tailor who made the kids' school uniforms for Cahaya Bangsa. But I'm shopping around for the right pattern. I liked this blue in one shop, but I'm hoping to find something even more colorful: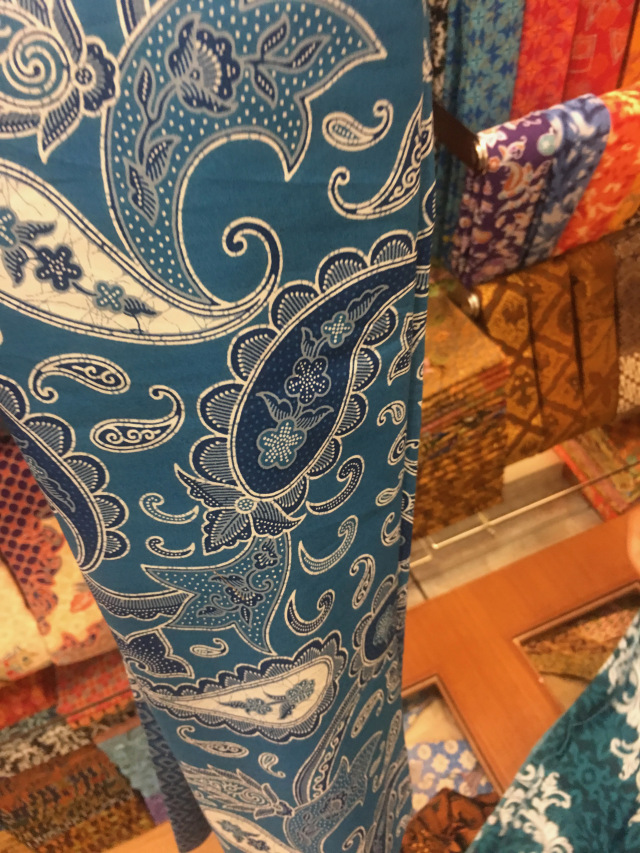 We have spent more than one Sunday at each of the three GAI congregations – St. Paul's, St. Peter's, and St. John's. This last is located on the campus of the military police barracks in nearby Cimahi, and is the smallest of the three congregations. They have given us a very warm welcome. I have preached through a translator twice (Ibu Ridha and her husband Pastor Denny K), and administered both sacraments in halting and mispronounced Bahasa Indonesia.
Baptizing the youngest member of St. John's: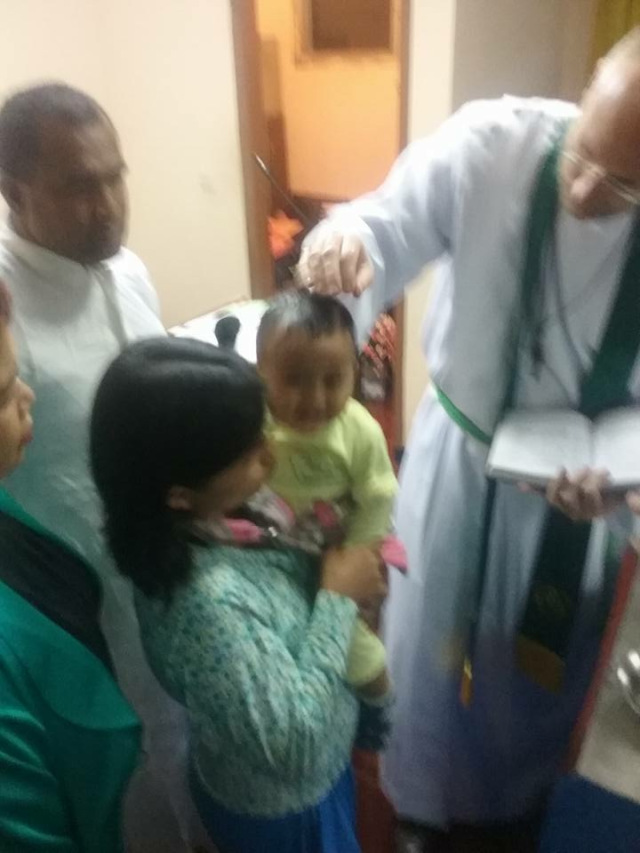 Here are our boys receiving communion from me and Pastor Yacob: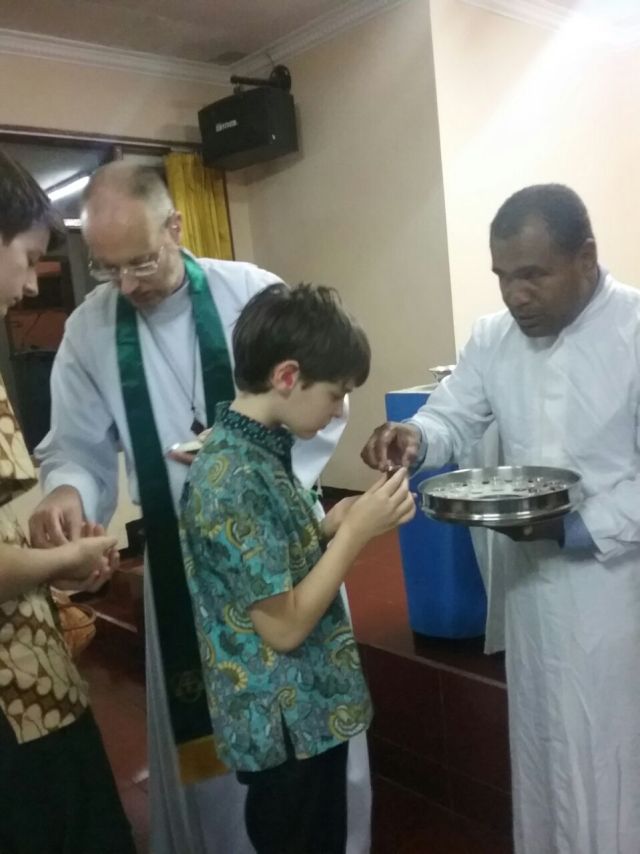 Our family is making an effort to get out of the city once a month or so, to escape the noise and pollution and traffic and decompress in a more beautiful environment – something we didn't do often enough in the Philippines. Most recently, that meant a trip to nearby Lembang, about 45 minutes away from Bandung proper. We passed an awesome house on the way.
We went to Maribaya, where Sora and I had lunch and enjoyed the sound of the waterfalls while monkeys played in the trees beyond: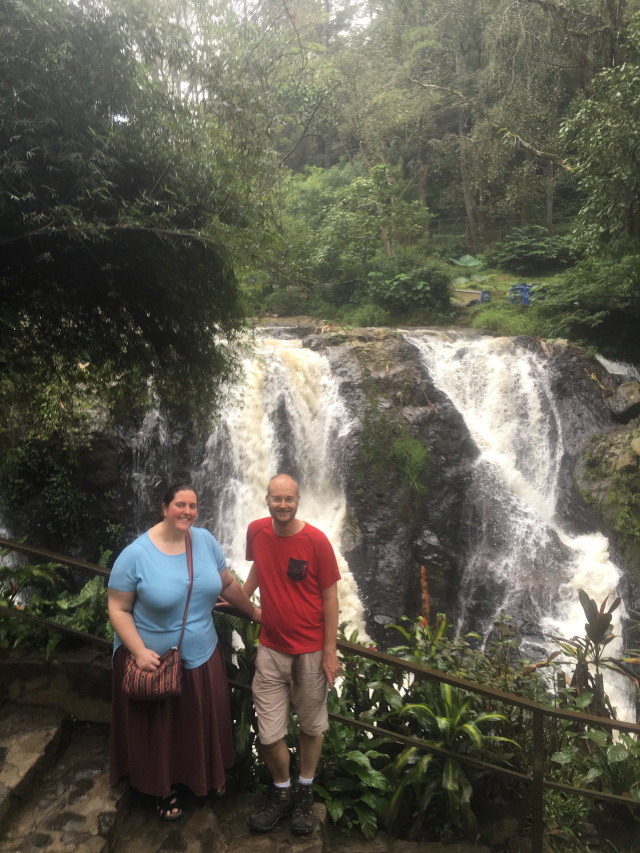 Later, we took the kids to the hot springs, which were very relaxing.
So that's a slice of life for us here in (and out of) Bandung.
We won't pretend this isn't a harder cultural adjustment for us than the Philippines was. For one, the stakes of language acquisition are much higher: without the Bahasa Indonesia, I won't be able to help the GAI with pastoral training in the ancient languages or the Scriptures. It's not like the Philippines, where most men with sufficient education to benefit from my instruction had sufficient English as well. Here, the language is make-or-break for our ministry. We're working hard at it, but we need to find more ways to get out and about in the city and strike up conversations with Indonesian folks whom we haven't met before. We appreciate your prayers for our family as we continue to live and study in Bandung, West Java.