What you see in this picture just looks like a group of friends having a picnic in a park, yet there is something deeper happening. A closer knowledge of God is being kindled in international Christian relationships. Relationships of agape love are just one benefit of SAMS' Agape Year program.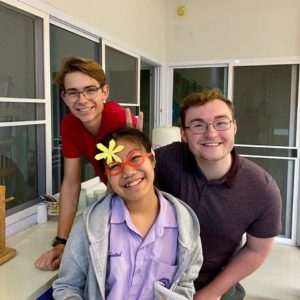 Facilitated by SAMS Missionaries Nathan and Erika Twichell, an Agape Year experience provides space and time for young adults embarking on adult life to slow down and dig into the hope of the Gospel. For nine months, "Fellows" take a "gap" between high school and college to focus on Christian mission in Pennsylvania and Thailand. Nathan and Erika recently escorted the current Fellows, named Christian and Nate, across the globe after a season of ministry and study in Pittsburgh. In the city of Chiang Mai, Thailand, Christian and Nate get to come alongside the Asian staff of St. Andrew's Church Community Learning Center in fostering relationships with locals to share the hope of Christ. Christian and Nate teach English language classes at the Community Learning Center and spend time with people of the community. As they share knowledge and the love of God, Agape Year Fellows get to be mentored by Asian church leaders in an international context.
Nathan Twichell describes the spiritual wealth of this experience: "Thailand is 1% Christian. People in church aren't there because they have a family heritage of Christian faith. Church for them is not cultural; they are mostly first-generation Christians. So for our Fellows this is an opportunity to spend two months with Christians for whom involvement in church is costly." For Americans, the Christian faith is often something partially inherited. In contrast, being a Christian in Thailand is highly abnormal. The Fellows' experiences working closely in mission with Asian Christians helps to clarify faith: What in my Christian perspective is more from Western culture? Versus, what in my Christian perspective is core to the Gospel?
Agape Year is an opportunity to see God's kingdom through the lens of another part of the body of Christ. As they lead a team to Thailand each year, Nathan and Erika tell the Fellows and their own young children: "We are going to Thailand to see family" – the family of God. Fellows spend earlier parts of their gap year ministering in Pittsburgh to international expatriates and the homeless. This adds up to eight months spent with "others" from a different culture. What can God teach someone about the core of the Biblical Gospel in these foreign contexts? Agape Year is a rich, formative experience for the Fellows as they embark on life after high school.
This week, Fellows Christian and Nate embark on a week-long trip to a remote village (without running water) in Thailand with church leaders of St. Andrew's Parish, followed by debriefing. Please lift them up in prayer, that they would draw closer to God through this experience and that the people in the village would see the light of Christ in them.