SAMS-USA Board Vice Chairman John Macdonald details an exciting opportunity for those gifted and trained for theological education to serve God. SAMS is pleased to #CarryOnAdvent by sending missionaries who will equip leaders in the global church to carry on the Good News of Christ's coming kingdom to all.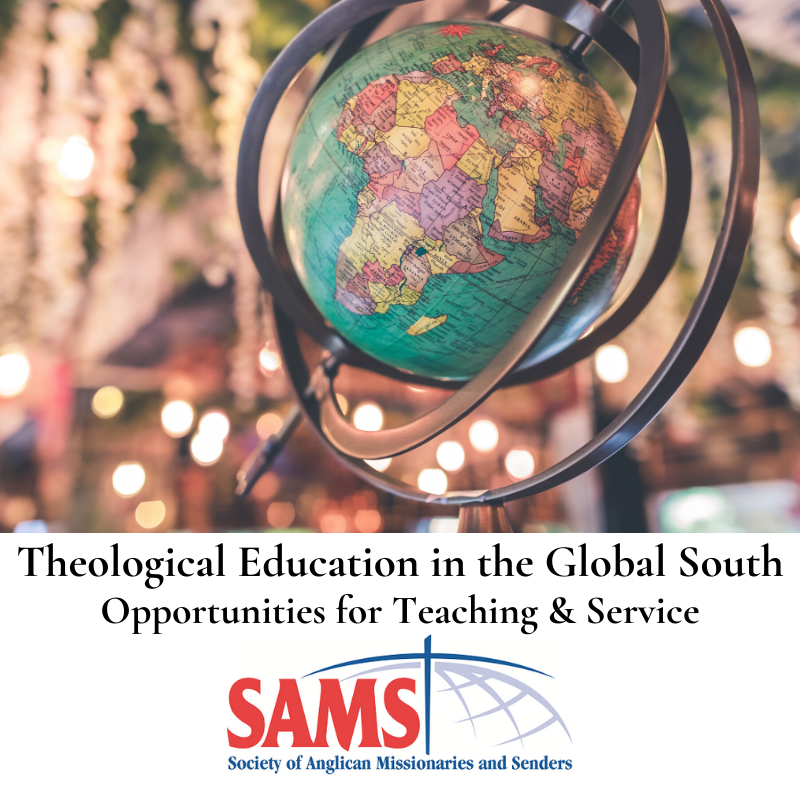 A Unique and Fulfilling Opportunity
In the midst of unprecedented renewal and revival, the Christian faith is spreading at a rapid pace in Africa, Asia, and Latin America.
At the same time, the vast majority of Christian leaders, whether they be ordained or lay, have not received adequate theological education.
SAMS-USA is engaged in a program to recruit faculty with post-graduate degrees to teach in select theological colleges around the world in order to help with this problem.
Do you have a post-graduate degree in theology, biblical studies, or ministry that is underutilized?
Are you on a teaching faculty and are considering where to spend your sabbatical?
Are you retired from teaching and are looking for a way to offer your knowledge and experience?
What is the need?
The need for good, orthodox theological education in the Global South is becoming more and more critical with each passing year. We can rejoice that renewal and revival is taking place in Africa, Latin America, Asia, and other places around the world. Yet the result is that Christian leadership, grounded in biblical orthodoxy, is acutely needed.
What is the answer?

How is it then that theological education can be improved in those areas of the world where the Church is growing at a rapid pace? The answer lies in recruiting and providing qualified faculty to teach in various Anglican theological institutions around the world. Some of these colleges are in the process of becoming accredited by their own country's ministry or department of education, and they urgently need doctoral-level faculty in order to be accredited and given degree-granting status. There are other equipping institutions where teachers with master's degrees are being requested.
Where is the need?

There is a need for theological educators in established schools, schools expanding programs, and newly formed schools across the globe.
What are the next steps?

I am interested.
Through SAMS-USA (The Society of Anglican Missionaries and Senders), a program is being launched to recruit and prepare possible candidates for these overseas positions whether it be for one year, two years, or longer. While the candidate would need to raise support for their transportation, monthly stipend, and benefits (including health insurance and retirement plans through SAMS), the expectation is that the host institution would provide housing and other amenities thus reducing the amount of financial support needed.
The length of service is based on the candidate's availability, whether it be for a single term or for one or two years—or more. After attending a Crossroads Conference sponsored by SAMS-USA and meeting the requirements for missionary service, the candidate and spouse (if applicable) will receive support-raising preparation, two weeks of pre-field orientation and other necessary training that will all be provided by SAMS-USA.
Is God calling you?
For further information, please contact:
Denise Cox, Associate Director
DeniseCox@sams-usa.org
(724)266-0669
www.sams-usa.org
OR
The Rev. Canon Dr. John A. Macdonald
Vice Chair, SAMS-USA
Associate Professor Emeritus of Mission and Evangelism
Trinity School for Ministry, Ambridge, PA 15003
JohnMacdonald@sams-usa.org