Picture a classroom. What do you envision? Are there desks arranged in neat rows? Is there a chalkboard or smart board on the front wall? Maybe you picture the students rushing down the hallways lined with lockers as they make their way from class to class. When we visualize a teacher we may think of these typical elements. This week is Teacher Appreciation Week, and although they may not be in a common classroom, many of your SAMS Missionaries are teachers! Take a look at some of your SAMS Missionaries using their teaching skills in the mission field:
April Sylvester is a mentor for students who are in a gap year program in Zambia. April teaches a variety of subjects including swimming, yoga, photography, and computer skills.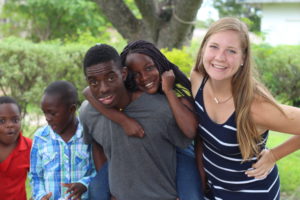 Veronica Flowers is the headmistress of Holy Trinity bilingual school in La Ceiba, Honduras. She is engaged in bringing a wholistic Christian education to the children in the area.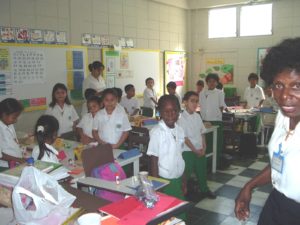 Johann and Louise Vanderbijl serve in the province of Southern Africa where they are teaching disciples to make disciples through a series of trainings. Thus far they have trained over 400 people!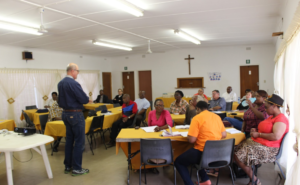 Janine LeGrand teaches people in the Diocese of Masindi-Kitara in Uganda and the surrounding rural area about health and nutrition. Here she teaches a group how to make a nutritious dish that includes the moringa plant.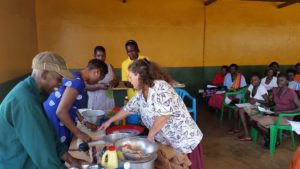 For the last five years Drs. Brian and Judith Taylor taught health education to those in the rural areas of Myanmar. Because of their teaching, one student was able to properly diagnose his neighbor with early symptoms of leprosy, and in result was able to get him the proper care.
These are just a few SAMS Missionaries that teach in the mission field. You can meet more here! Whether it is through swimming, spelling, discipleship making, or nutrition, your SAMS Missionaries seek to bring the transforming love of Jesus Christ to all the students they educate. Maybe take the time to tell your SAMS Missionary that you appreciate what they do as educators. Leave a comment, or email them: firstnamelastname@sams-usa.org (e.g.  johnsmith@sams-usa.org).
Are you a teacher? If so, know you are appreciated and the Lord has given you an important gift so that you may be an influence in someone's life. How are you bringing the love of Christ to others you teach? Maybe you have not considered using your teaching skills in the mission field. Ask the Lord how you can use your gift whether it is at home or abroad.
Discover more about becoming a SAMS missionary here.
Featured image: Louise Vanderbijl teaching the Mother's Union sewing skills in Gambella, Ethiopia.