"I feel that God has forgotten me," declared Mr. G. We stood in his disrepaired living room, plastic tarps covering furniture and the walls down to the studs. It had been over six weeks since Hurricane Harvey swept through southeast Houston, Texas, destroying and breaking down homes, businesses, and hearts. Mr. G's home was in the path of the devastation, leaving him and his 11-year-old daughter, Steph, with little left.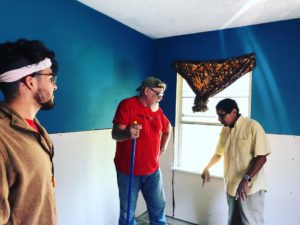 SAMS, Trinity School for Ministry, and Christ Church Plano all felt a calling to serve. The 12 person team arrived in Houston to Missio Dei Anglican Church, a church who has been called to serve those affected by the hurricane in the city. While we were still unsure of who we would be helping, God soon led us to Mr. G and Steph. As we drove through their neighborhood, some homes seemed perfectly fine, while others had a pile of debris several feet high. The houses reminded us of people. While someone may look fine on the outside, you may never know what struggles they are facing on the inside. Mr. G's house and spirit had been hit hard.
On our first day, he told us about his heart surgery he recently had and his other health ailments, preventing him from doing much of the repairs, despite having the skills in construction. The look of defeat was prominent on his face as he slouched over and held his chest. Throughout the week we worked to replace drywall and to establish a functioning bath and kitchen alongside Mr. G who taught us some new skills.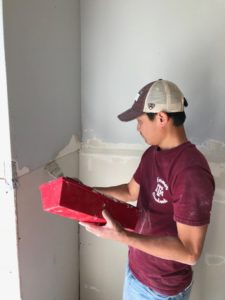 When each day was over, the family joined us back at Missio Dei for dinner, and one night we set aside a time for communion. Steph was curious to explore the church, and she noticed the altar prepared for communion. This was an opportunity for me to tell her that we are all imperfect people, but someone came to save us; that Jesus died on the cross for our sins and rose from the dead, that he gave us the gift of communion and the Holy Spirit who is always with us, and that he promises to return one day. Mr. G and Steph took part in communion with us, and we prayed over Mr. G for his heart both physically and spiritually. As we prayed and sang, it was moving to see them both lift their hand up to God in thanks and surrender, and day after day see Mr. G's slouching diminish.
By the end of the week, there was an obvious change in Mr. G and Steph. The Lord had encouraged them and reminded them that they were not forgotten, but that God loves them and even sent others to care for them. Their house still has a lot of work to be done, but those at Missio Dei continue to pour out their love as they work alongside Mr. G and other teams to see that they return home. I praise the Lord for taking broken things and making them new again.
Missio Dei is looking for teams to help partner with them to help people like Mr. G and Steph. If your church is feeling called to send a team to Missio Dei Anglican Church, contact Lynn Bouterse at 724-266-0669 today.
By Sarah Norris, Writer and Communications Specialist.