When I moved to the Dominican Republic 10 years ago, I didn't know how long I would be here, and I still don't know.  Throughout these 10 years, the ministry has morphed from primarily treating patients needing physical therapy, to primarily teaching Dominican physical therapy students, which certainly has a greater impact on how Dominicans are treating their patients.  God has been very active throughout these years here, preparing me all along through relationships established and experience gained for each phase of the ministry.  In addition to the physical therapy aspect of the ministry, God has been using me in my congregation and community in various service ministry roles.
This edition will have fewer words and more pictures, in a recap of these years of ministry.  More photos are available on my website.  Thank you for joining this ministry!  Please continue to pray for the students, the Dominican therapists, the community of Santa Fe and for God's love to reach all corners of this island!
Consolation ministry (2008-now): Juan who suffered a spinal cord injury and returned home without hope.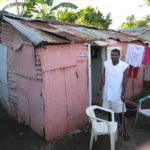 Clinic work (2007-2012 patient care, 2012-now ancillary role):  Therapy staff with students from Regis University at my house.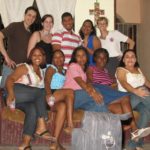 Las Chicas Nices (2008-now): We are singing at the Encuentro en Mision 2013 in the cathedral.  (Photo courtesy of Julius Ariail)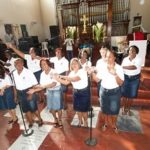 University ministry (2010-now) Some of my students learning wheelchair mobility.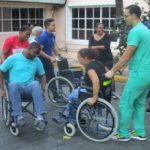 Construction ministry (2017): Maria is in her new, indoor kitchen.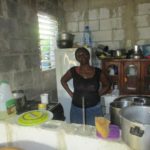 Thank you for your support for this ministry!  May God bless and keep you as you bless those you meet.
In Christ,
Cathy
Cathy Donahoe is a SAMS Missionary and Physical Therapist serving in the Dominican Republic.
Donations: SAMS, PO Box 399; Ambridge, PA  15003 with Cathy Donahoe in the memo line of the check or go to the website https://give.samsusa.org/
Cards/letters: Cathy Donahoe, Apartado 587, San Pedro de Macoris 21000, Dominican Republic