Cathy is from Grand Junction, Colorado, and has been sent by St. Matthew's Episcopal Church, Grand Junction, Colorado. Cathy is serving in San Pedro de Macoris, Dominican Republic.
Her Ministry:
Cathy's has been serving our Lord in the Dominican Republic since 2007 using her skills as a physical therapist. Her vision of this ministry has been to be working with the people of the Dominican Republic to help improve the health care offered. Health, in New Testament terms, is the capacity of individuals, families and communities to work together to transform the conditions that develop, in a sustainable way, their well-being, spiritually, physically, emotionally, socially, economically and environmentally. As a physical therapist, Cathy has been facilitating this through both treating patients and training people in physical therapy skills. This has been happening at the Asociación Dominicana de Rehabilitación branch in San Pedro de Macorís as well as nationally through the ADR. Cathy has been to Haiti for brief periods as well, teaching in a program training rehabilitation techs, the first class of whom were working on the day of the quake and in its aftermath. Additionally, Cathy is doing her best to model a good Christian life.
Cathy has become involved with ministries at her local Episcopal parish in the barrio of Santa Fe. In addition to participating with the music ministry, she has been an integral part of the newly formed consolation ministry. They visit members of the community in need of assistance sharing scripture, prayer, and fellowship. This could be following the death of someone in their family, an accident or injury, or a variety of needs exacerbated by their material poverty and many times their informational void.
Her Calling:
Looking back on her life, Cathy can see God's handiwork in preparing her for the mission field since an early age, though it took her a long time to get there. Key points along the way include serving in the US Peace Corps after college, meeting the bishop of the Dominican Republic one weekend in Colorado who has a PT clinic in his diocese with needs, hiking with friends on the Corkscrew trail in the Colorado National Monument when I heard of SAMS for the first time, and the first trip to the island of Hispaniola in 2003. That trip combined a month in Haiti and close to a month in the Dominican Republic. In Haiti her role was that of clinical PT teacher and in the DR it was as an aide to the staff at the bishop's PT clinic. She was blessed getting to know the staff but was sure they could do much more for their patients. Ellen Snow, a missionary who coordinated short term teams and visitors, suggested Cathy return every year for a couple of weeks. Her final morning there, as she walked along the Malecon for the last time, mulling Ellen's suggestion, her reservations about having any effect on a two-week-at-a-time basis were strong. Suddenly Cathy felt God nudging her with the question, why did it have to only be two weeks?
Being one slow to make important decisions, it took another year and a half before she tested the waters with 6 months as a Bridger with SAMS at that clinic. This confirmed God's call to long term missions, though it was not clearly in the same location. Resuming communications with SAMS upon return they determined that partnering together in this mission journey was the right plan. After going on her placement trip to Honduras and Haiti, it became clear that San Pedro was to be her destination for now.
Pray for Cathy and the Dominican Republic:
Pray that younger members of the Dominican church will feel called to the ordained ministry, and for the leaders and resources to train and equip them.
Pray for Bishop Julio Cesar Holguin of Iglesia Episcopal Dominicana and other church and government leaders to work together to combat poverty, crime, and violence.
Pray for Cathy as she continues to teach Physical Therapy classes in the area. Pray for her students and that God will move in their lives.
https://youtu.be/bLS-gKcrTtM
If you are feeling called to support or encourage Cathy, visit her missionary page here.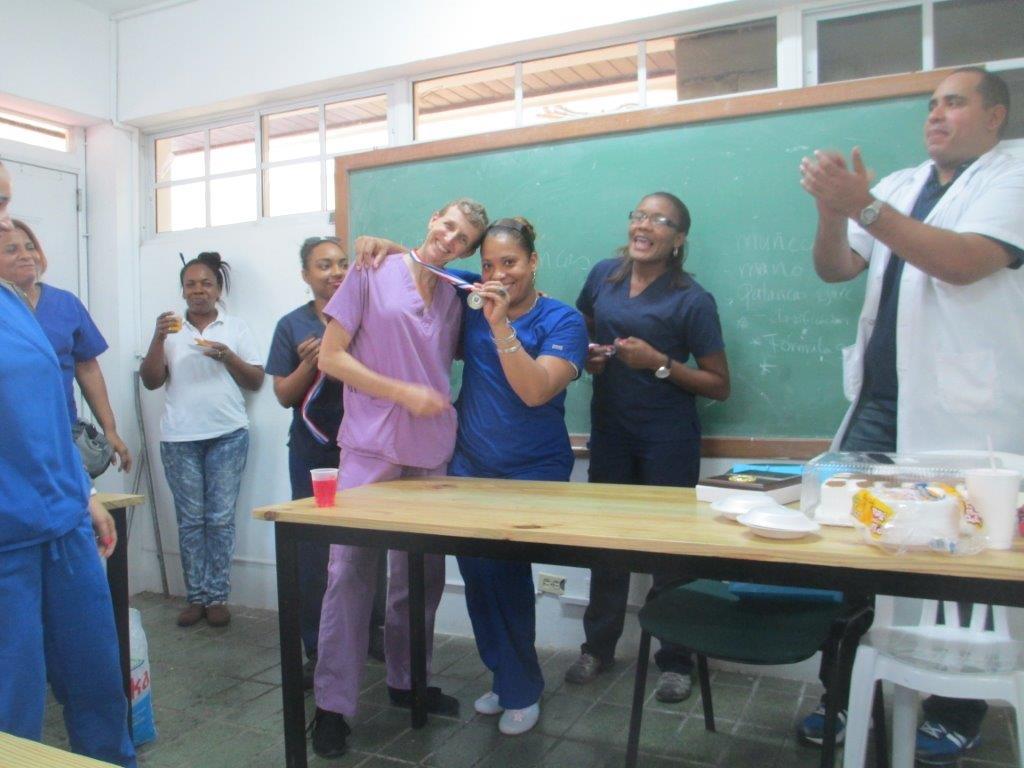 Looking back on her life, Cathy can see God's handiwork in preparing her for the mission field since an early age,