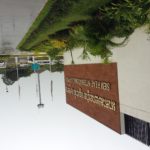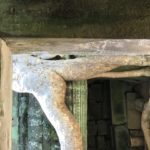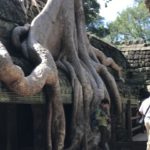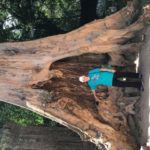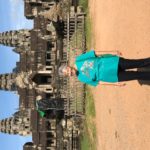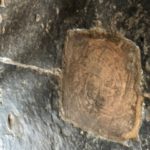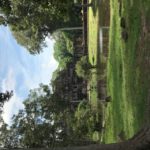 ThisFirst (upside dien) photo at Siem Reap,International Airport.  Second of that smallest banana I had dor breakfast. Third: the "ass" root. Fourth: the octoous root. Fifth, an old cotton tree that could not be removed.  sixth, Betsy on the esst side of Angkor Wat. Seventh The Center of thr Univsere stonr.  Eighth: the trmple to,Shiva, the oldest in the temple complex.  You may click any photograph to expand it … sorry some are not upright.
This blog is about the first part of a side trip I took to Cambodia to visit the temples at Angkor Wat, and is not part of my mission trip to Vietnam.
18 August – Most mornings Hanoi is blanketed in haze, but today it was clear and sunny. I planned to visit a couple of travel agencies to find one to book the trip I wanted to take to Angkor Wat the first weekend in September. That Sunday in the Vietnamese National Day and there is no school that Monday. Two of the agencies looked from my guide book to be in the French Quarter, which I wanted to visit in any case.  I caught a Grab Bike, a motorbike taxi service, which I have found is the fsstest and chespest way to get around town.  I gave the driver the address of my destination and he asked a fee of 50VNDong, about $2.50. I handed him a 100VND bill and he tried to short change me by handing back 40. I insistently gestured that he owed me another ten and he finally relented, handing over the balance. He drove the same route I had walked two weeks ago and I marveled to see how long a distance it had actually been. I wondered if he were regretting not having asked more, because he stopped part way in the wrong street at the wrong address and asked me to get off the bike. I refused, and showed him again the address of my destination. He had to ask directions from a nearby officer, then drove another mile or two, where he stopped again and asked me to get off. The road ahead had been blocked so I had no choice. I stepped into the nearby Singapore Airlines office to ask directions and found the driver could simply have turned at the corner and he would have ended up where I had to walk. But, oh, well, I needed the exercise.
I was surprised to find that I was at the lake in the Old Quarter where another teacher and I had been last Saturday and not in the French Quarter at all. I asked directions again and walked about a mile till I came to the VN Visitor Center, allegedly a good source of maps and tours. As a visitor center it left much to be desired. I asked for and was given a small Hanoi map showing just a portion of the city, and I was told by a rather bored and apparently disinterested attendant that the center does not plan tours except for air travel. So, I asked directions to the second agency I wanted to visit, which was half way around the lake. Part way there I decided to skip it and go on to the highly-recommended Buffalo Travel Agency – which decision took me the rest of the way around the lake, the same circuit I had made the previous week with my teacher friend.  It had begun to rain so I pulled out my ever-present umbrella and continued down Ba Trieu street looking for number 70/72. Several blocks along I found #68 to be an apparently abandoned building and #74 was a parking garage. There was no building with the #s 70/72 on it but a bank where those numbers should have been. I continued walking until I was sure I had passed the right address so I u-turned and walked back … still no obvious right place. With the rain the humidity had climbed. I decided to go into the bank, which was air conditioned, and I had a small blessing.  Reading the tenant board I discovered Buffalo Travel was on the 9th floor. Right across from the elevators was a clean restroom, which I had been thinking I might soon need. Up to floor 9 and with even more blessings I found the travel office open, if sparsely staffed on a Saturday afternoon. A young woman speaking passable English confirmed that the agency could arrange the Angkor Wat trip I want, and told me the booking agents would not be back in until Monday. She asked if I could come back then and after an exchange of information she gave me the booking agent's name and number, taking mine in exchange, and promising I would hear from Ms. Thuy in a few days. When I left, the young woman escorted me to the first floor door to be sure it wasn't locked. Kudos for her customer service.
1 September – Mr. Nguyen Manh Thiep (Tip) arrived smack on time at 1400 hours, with a driver in a nice sedan, for thentransfer from my hotel to the airport. Tip studied tourism in Hanoi, is self-taught in English and is a most personable young man. He has been with Buffalo Travel for four years. I had packed a single carry-on bag and Tip carried it to the VietjetAir counter and helped with check-in. Noi Bai airport is new and toward the end of a new high speed highway. En route we talked a bit about language, and Tip said there are no multi-syllable words in Vietnamese, making it easy to learn once one masters the tonal aspects. Hah! Even Hanoi is two words, spelled locally as Ha 'Noi and the country name is Vieg Nam. Noi means between and Ha rivers. Hanoi lies between the Red (Hong) and the Yellow rivers. The airport is a beautiful, spacious and beautifully clean facility. The old airport, to the northeast of Hanoi, is now used for domestic flights. I asked about a bank so I could buy some Cambodian money and Tip directed me down stairs. Strangely, NONE of the banks or currency exchange offices sold Cambodian currency, and there were several, so I had to await arrival in Siem Reap.
A sweet English-speaking Vietnamese woman sat next to me in the departure area and asked if I were going to Siem Reap. She told me there had just been an announcement that the gate had been changed from 30, where we were sitting, to 24 and she walked with me to the new gate. In a conversation about travel, I told her I was going to Halong Bay in mid-September and she said Halong means flying dragon. I joked that the Vietnamese must love dragons, with dragon fruit and dragons' eyes. She said an early Vietnamese king had a dream about flying dragons, and thus named Halong Bay when he settled there. On the walk she said Vietnam loves four animals: a large and a smaller dragon, the turtle and the phoenix.She learned fluent English in high school and currently works as an administrator in an elementary school. She has traveled all over, mostly by herself, and has been many of the places I have.
VietjetAir's flight 957 for Siem Reap, a nearly full Air Bus 360, left the gate on time at 1655 and before we hit the overcast, which had built heftily during the afternoon, we overflew dozens and dozens of small villages, sometimes separated by less than half a mile.We followed the course of a large, winding river for most of the initial part of the flight until it wandered away to the east to the Gulf of Tonkin. We flew over a curve of the Gulf, then paralleled it before turning further southwest. Interesting clouds below and sometimes level with us at 32,000 feet. Then we were in the soup until, I calculated, we entered Cambodia and in the darkening sky most of the clouds dissipated leaving a vibrant pink and purple sunset. Below were flooded fields looking like mud and no lights at all except those limning the distant airport runway. The latter is a smallish clean facility with more airplanes in evidence than I saw at Noi Bai. Obtaining the walk-up $30 visa was easy. Customs were likewise easy, since I had nothing to declare, and Johnny, my Cambodian Siem Reap guide, was awaiting me with a Janet Elizabeth Robson sign in hand.
The drive to the Mother Home Inn – a small hotel with only 28 rooms – was in light traffic. I was in room 208, reminiscent of the Sunny 2 in Hanoi in its simplicity, but even more basic is the bathroom – little counter space and the kind of shower not enclosed in a tub. Water covers the floor as it drains to the far end. My room is on the back of the hotel overlooking its outdoor pool. I should have brought my swimsuit. When I arrived the temperature was in the nineties, surely warm enough for an outdoor dip. The hotel is just a block from the colorful main drag. The wide two-lane road leading into the city was generally clear until we reached town; motorbikes have their own, separate roadways paralleling the main street, nothing like the havoc of Hanoi.
Johnny gave me a running commentary on Cambodian and Angkor Wat history. I did not know the French had been in country for years, accounting for the Latin alphabet on many buildings. The Khmer letters are a beautiful but unfamiliar curlicue script. To my question, Johnny said Angkor means city and Wat means temple, or the city of temples. They are not in Siem Reap itself. After a war in the 1400s with Thailand the temples were abandoned and were inexorably covered by the jungle. They were found again by the French in the mid-1800, and the covering jungle overgrowth cut away. The temples of various Hindu and Buddhist gods, depending on the religious preference of the king at the time, are not now being used except for a large source of income from an influx of tourists.
Unlike Vietnam which had no entry paperwork aside from the visa, Cambodia required arrivals and customs declaration cards, and a departure card when leaving. It had been a long time since I had deplaned onto the tarmac and not into a jetway. I did not expect food service on this under-two-hour flight, but the few on board who wanted dinner could choose from the pay-as-you-order menu. Neither was there beverage service, which I found a little strange. Having had to empty water bottles for security checkpoints, I was hoping for at least the chance to refill one on the plane. It won't take long at the hotel. My water purification tablets will clear two liters in thirty minutes. Breakfast is included in my tour and runs from 6:00 – 1000, the same hours as the Sunny 2 in Hanoi. Lunch is also included, and promises to be another food adventure. I was to meet Johnny in the lobby at 0800 the next day.
2 September – the coolest morning so far of my entire Asia trip, with a very high, thin, cloudy overcast. The soak-the-floor shower worked just fine. I went down to breakfast about 6:30, and the otherwise tranquil day, filled with bird song, was despoiled by the loud Asian music and ceaseless shouting of what appeared to be a Chinese tour group. (I knew they were Chinese because when I moved aside for a woman who pushed in front of me I recognized their words for Thank You from my trip there several years ago). One woman in particular, the tour boss lady or just bossy, I could not determine, was especially loud, sounding as if she were angrily giving instructions. Foods on the buffet were more recognizable than in Hanoi, and I enjoyed lovely small fresh croissants which I liberally covered with butter and orange marmalade. I also ate the smallest ripe banana I had ever seen. Most buffets I have experienced here have peeled, sliced watermelon and pineapple. Here the small slices of pineapple were carved to look like little hedgehogs in silhouette. I took my breakfast outside to sit by the pool where, unfortunately, the Chinese had taken all the tables. I sat on one of the ten poolside chaise lounges. The neighboring property had a tall coconut palm sporting green fruit. When most of the group departed it became reasonably quiet. I want back to the buffet for a second cup of coffee, took a few pictures and relaxed to wait for Johnny.
It was clear, bright and hot all day, despite the prediction of afternoon rain. Our first stop was to buy the $37 ticket for all the temple admissions at Angkor Wat. Of that fee, $2 goes to support the local children's hospital run by the Swiss. Judging by the thousands of visitors to the temples this day, the hospital had a good income. The first temple we passed from the parking area was to Ansara, a famous goddess dancer, whose image is all over the many temples we visited. Those images feature various poses, costumes and hair styles, no two alike, I was told. This temple is largely in ruins with very little restoration except removal of jungle overgrowth.
The main Angkor Wat temple itself faces west, unusual for a temple in my experience, but for reasons I discovered later, we went in through the east entrance, which is on the second level. (Angkor Wat is a World Heritage Site.). We first encountered a large grassy yard, then proceeded to climb the first of hundreds of stairs in the complex. This temple dates to the 1200s but was abandoned in the 1400s after one of Cambodia's many wars with Thailand. Siem is the Cambodian name for Siam, and Reap means drove them out. In wars with Thailand, which took several Cambodian provinces, and with Vietnam, which took ten, including Saigon, Cambodia's borders have shifted many times, rather like Poland's. It is now the smallest country in Asia, bordered on the west and northwest by Thailand, on the north by Laos and on the east by Vietnam.
I bought a guide book recommended by Johnny called Ancient Angkor. It is an excellent history of the entire group of temples and I may eventually refer to its pages rather than write everything I learned. When the French "rediscovered" Angkor in the mid-1800s, the whole area was overgrown by jungle, having been vacated four hundred years earlier. The Khmer royalty must have been tall people because in some places the risers on the very worn steps are about ten inches, and in one temple they are over eighteen inches high. Restorers have built myriad wooden staircases over these steps, some quite steep and often without handrails. Over the years many parts of roofs have fallen into open spaces, and there is much black, acid rain pollution damage evident on the buildings. The French tried to repair some of the fallen ceilings by filling them with cement, rather than just refitting the sandstone and volcanic rock building blocks of the original structures.
One of the important myths of the area is the fight between demons and gods who each carry long parts of an enormous snake that came from the roiled waters of the Great Lake, and their efforts hold the kingdom together. (The Great Lake is the largest – fresh water – lake in Asia and drains to the Mekong River in the fall.). Inside Angkor Wat are several long galleries stretching the length of the east and west sides of the building, and their junctions with cross halls have high vaulted ceilings where many stones have fallen. Buddhist monasteries were once added at each end of the building but have since been removed to more distant locations. There are piles of fallen stones in all of the courtyards. We climbed up and down stairs, eventually coming to a third, stone-paved courtyard with steps leading to the north tower, one of five on the building. The Central tower is 65 meters from the ground up. I would have ventured this climb but for the very, very long queue of people waiting in the hot sun. There was a group of five or six women in ancient, traditional costume in the courtyard and many people were posing for photos with them. Of course, there was a fee for this privilege. I sneaked a picture from the corner.
We continued through the complex, up and down, skirting uneven flags, until we came out of the west entrance. Then I saw why we began on the opposite side. There was a nearly mile long, broad walkway to the main gate, used for royal processions, and a large stone platform where performances were held for royalty to enjoy. The large expanse between the building and the gate was for the hoi polloi to stand to honor royalty and enjoy the performances. The causeway bridge over the 1,000 meter long moat, now dry, is under repair, so we crossed a wide Italian-built floating bridge made of 12-inch rubber squares. It bounced as we walked to the end where, for the first time in over two hours we had a chance to sit down.
I asked Johnny, whose Cambodian family name is Bun Lei, why he picked the name Johnny. He said when he began to learn English in primary school, the British primer stories were about a boy named Johnny. His Facebook name is Johnny Smart. He is extremely knowledgeable about the history of the area and never hesitated to answer my questions or to provide a running commentary, including on Cambodian and Cambodian royalty history.
At the far end of this long courtyard we went through the main entrance gate and met Phaep, our faithful driver. We proceeded to Angkor Thom, the main gate to the city that once surrounded the temples. Thom means "big" (and Angkor means city), and the city originally surrounding the area was twelve square kilometers. The bridge leading to the gate is over yet another moat, 400 meters per side, and is lined with the ubiquitous symbol of gods and demons pulling opposite ends of the big snake. The complex holds several Buddhist and Hindu temples, built by the various by kings. One of these, the Bayon temple, dedicated to Buddha, has forty nine square towers, each with a different face on each of its four sides. Extensive friezes depict centuries of Cambodian history and culture. The four faces on each tower represent Buddha's way, which is the four phases of life: birth, sickness, old age and death. Buddha, born in Nepal, was a layman who believed in peace and tried to bring all peoples to live in peace with each other. This philosophy is reflected in the many statues of a lion with a bird sitting on its head. He believed that when someone dies a woman becomes pregnant and delivers new life, the basis for his twelve steps to nirvana.
We walked on to the distant view of the oldest temple in the area, dedicated to Shiva, the god of creation and destruction. He is often represented by a phallus, surrounded by a circle, representing woman, the basis for creation. Then we passed the famous elephant terrace, a platform over a long wall filled with elephant carvings that were not discernible from the roadway. This platform has a central dais where the king sat to watch performances on the surrounding ground. Across the road are twelve small buildings where the courts of justice were housed. Johnny said they were once connected by a rope strung between their high points, and were reached by a tightrope walker.
Here we met our driver and headed to a restaurant for the lunch included in the tour. I expected Johnny to join me, but he did not. The lunch was in an open-air second floor location with ceiling fans and surrounded. by banana palms. I never knew that such palms, at keast in Vietnam, produce a single crop and then are cut down for fuel and building material. There was a set menu starting with green mango salad – spicy and delicious, followed by a warm soup resembling egg-drop soup with corn kernels, then a mountain of rice and servings of four different ingredients in palm leaf dishes – very attractive – and green bean in coconut milk soup for dessert. I ordered a small Cambodian beer to go with, but there was so much food I could not eat it all. I have a habit of entertsining myself by removing entire labels from beer bottles and did the same here. The neck band, which was not damp, was harder to take off, but when I succeeded after about five careful minutes, the waitress giggled and applauded. Clearly she had been watching my efforts and celebrated with me when I got the band off in one piece.
Our last temple was the Royal Buddhist Monastery, where Lara Croft, Tomb Raider was filmed. (This must be when Angelina Jolie found the Cambodian child she adopted.). The temple is, of course, in ruins like all the others here, but under wide-reaching reconstruction by an Indian/Cambodian consortium There are several large cotton trees growing out of it, so large they could not be removed when the temple was released from the jungle, and their humungous roots cover extensive parts of the walls. Johnny pointed out one such root that he called an "ass" (apologies to my readers), because for sure it resembles a human behind. Another group of roots from the same tree he called the octopus. Along the road are many stones with numbers painted on them to tell the restorers, where they should go when it is time to replace them in the structure. At the end of the long path leading to this temple we sat for a while and discussed whether I wanted to spend the next three hours before sunset at the hotel. While we sat there Johnny squashed a small centipede, saying they are rife in rice paddies and their sting, administered by their rear ends, is toxic.The tour included a final temple from which one can see the sunset above the jungle. We opted for the hotel, where Johnny and Phaep picked me up just before 1700 hours for the long drive to this temple. The road was lined on both sides by rice paddies. It takes nine months for a rice plant to mature, though there is a variety that ripens in 120 days and allows for two crops a year. Another long steep stair that I could barely negotiate to the top platform, already filled with sunset watchers. It was not much of a spectacular sunset, not nearly as colorful as the one I saw from the plane as we flew in, but it was a nice end to the long day.
It was so hot that the first thing I did was take a shower, before falling into bed and sleeping nearly through the night. I awoke to the disappointment of rain on the day when we were scheduled to take a boat to an island village and engage in some other outdoor activity that I shall report in CAMBODIA PART II.