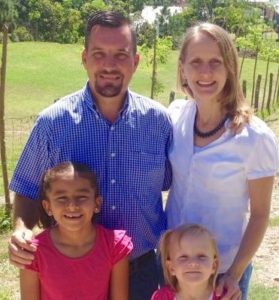 Mike and Kim Miller are SAMS Missionaries serving in Honduras. They are the founders of Hope of Jesus Children's Home, a home committed to providing protection and daily care for orphaned, abandoned and vulnerable children in Honduras. We aspire to raise healthy boys and girls to become Christian leaders by implementing our four ministry pillars of faith, family, mercy, and responsibility. Sixteen children currently live at the children's home. They come from a wide variety of social and cultural backgrounds but share the need for stability and protection. Under the care and guidance of the housemothers, teachers, tutors, psychologists and the many others invested in their lives, the boys and girls have all grown significantly since their first days at the home. In time the capacity of the home will expand, and we will be able to offer more children refuge from their perilous circumstances.
Billy Crain, a southern rock music artist, and friend of the Millers visited Hope of Jesus Children's Home in January 2017. After his mission there, he was inspired to write his 6th solo album. This album is dedicated to the children's home. 100% of the proceeds from the purchase of "Broken Things" will go to the home.
Purchase "Broken Things" album here and support this minsitry!