In this very dangerous time as indicated in the announcement below, we are so very thankful for our car made possible by financial gifts from our supporters and partners in mission.  Please pray for the people here in Northeast Brazil who must rely on public transportation every day to get to work, church and receive social services.  The buses here are always packed with people standing in the aisle of the bus. Here  is the Security Alert:

U.S. Consulate General Recife, Brazil Security Message for U.S. Citizens:
Increased Violence in Public Transportation
              March 30, 2017
The U.S. Consulate General in Recife alerts U.S. citizens of an increase in criminal activity in public transportation in all northeastern states.  According to the media, in Pernambuco specifically, criminal activity in public transportation is 97.2 percent higher than last year. Criminals have typically targeted bus drivers and passengers to steal cellphones, wallets, jewelry, and purses.
Review your personal security plans, remain aware of your surroundings, including local events, and monitor local news stations for updates.  Be vigilant and take appropriate steps to enhance your personal security.
The Consulate will continue to monitor the situation. If you require assistance, contact the Consulate using the contact information below:
U.S. Consulate General Recife
Rua Gonçalves Maia, 163 Boa Vista, PE — 50070-125 Phone: (81) 3416-3050 After-Hours Emergencies:(81) 3416-3060 Email:
recifeacs@state.gov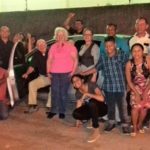 Our congregation at Cristo Libertador giving thanks to God and our financial supporters for this wonderful gift of a car.