Ron and Debby McKeon
Church Development in Brazil
Ron and Debby are dedicated to helping the Anglican churches in Joao Pessoa grow spiritually, numerically and missionally.
Home Church: Church of the Savior, Ambridge, Pennsylvania
You can email a missionary by using this format: firstnamelastname@sams-usa.org.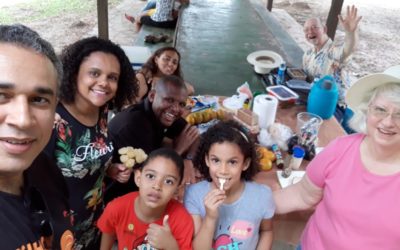 This is the Third story in our Celebrating 10-Years of Ministry in Brazil. It is often said that when we look back into our past history, even back to the beginning in the Old Testament of the Bible we can better see with confidence why it is so important to trust God enthusiastically with our future. I agree and that's why we are writing this series. The featured photo shows us with two very special Brazilian families who have helped us discover the Best Return on Investment.
read more
This is the second story in our 10-Year Celebration series of our missionary activities in Brazil. The featured photo is of then Pastor, now Diocesan Bishop, Marcio Meira and his wife, now a Pastor, Linda receiving Plarn Rugs for the families of their Compassion Ministry in Cabedelo, Paraiba, Brazil. These large colorful plarn rugs were stuffed into our suitcases and brought to Brazil. The plarn rugs were distributed to various churches and used as floor coverings in classrooms for children's story time during Christian Education classes, and in individual homes in neighborhoods where churches had outreach ministries. Many of these homes had a combination of dirt and rough concrete floors.
read more